Pavijet Mini Pavers
PAVIJET MINI PAVERS
Simple to use, Low Maintenance, Labor & Equipment Cost Saving... One Smart Investment!
The new compact Pavijet Mini Paver is the most recent evolution in the asphalt finishing sector.
With an international patent, the Pavijet is the only paver able to fill with:
• Gravel • Sand • Stones • Asphalt (hot and cold) • Concrete
The Pavijet can do many jobs, such as:
• Patching roads
• Cycle tracks
• Sidewalks
• Pavements
• Parking lots
• Driveways
• Garden and park paths
• Utility trenches
• Sand in courtyards for self-locking bricks
• Flat layers of concrete in worksites?


The Pavijet can also bypass any obstacle in the way, like advertising signs, trees, etc. thanks to the retractable screed.
Paviject Mini Paver MG7
Easy to use and to transport.
The Pavijet MG7 is a completely hydraulic paver. It can be connected to any kind of skid loader with a minimum of 20 HP (15 kw). The attachment is mechanical and the hydraulic connection is done with quick connects. The Pavijet can be loaded and unloaded from the truck by the same skid loader. Thanks to its small dimensions, the Pavijet is easy to use and to transport.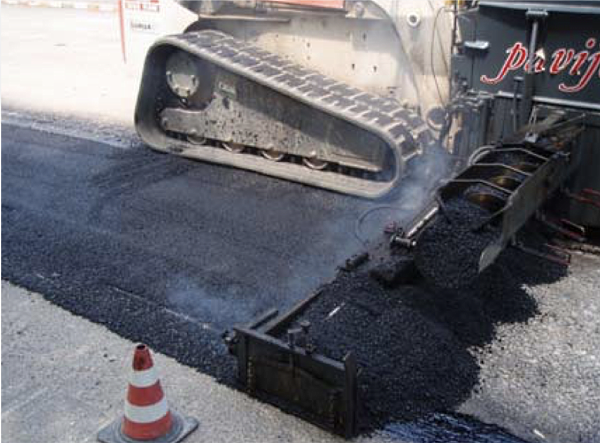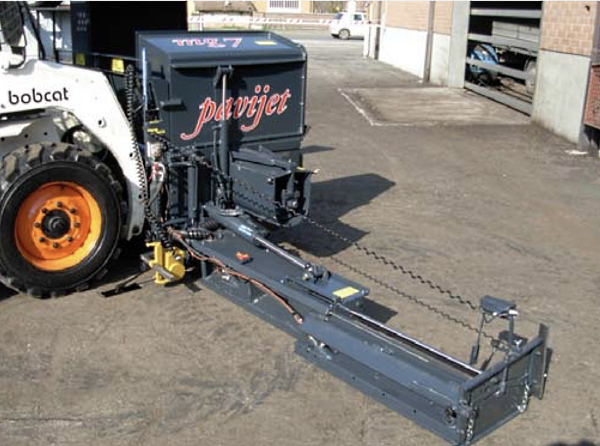 Paviject Mini Paver MG6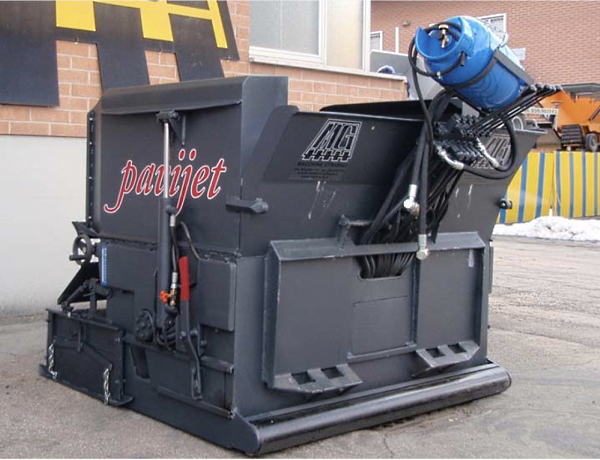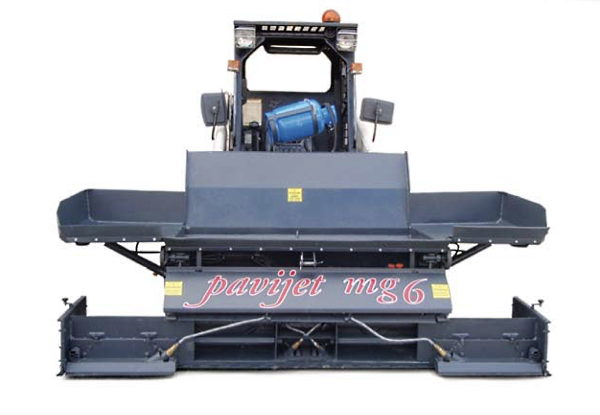 The Pavijet MG6 Mini Paver is able to move backwards and is useful for sidewalks where there is no space to move forward. The concept is the same as the MG7, but the MG6 has two retractable screeds instead of one, with paving width from 15.75" to 90.55" (0.40m to 2.3m).
Features:
• Telescopic hydraulic screed paving
• Easy to attach on skid loaders or loaders
• Hydraulic hopper which can be loaded from a truck from either the front or side
• Hopper capacity 42.38 cubic feet or 1.57 cubic yards (1.2 cubic meters)
• Screed heating by propane gas
• Central hyrdraulic convey
To download the full brochure on Pavijet Mini Pavers Click Here
* Please contact Duane Witmer at [email protected] for more information